SUNDAY MASS
Vigil Mass (Saturday): 5:30pm
Sunday: 10am; 12 noon; 6pm.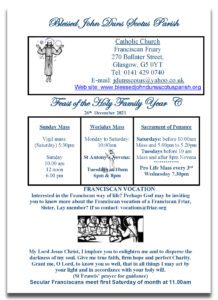 The Parish lives with the support of the people of the Parish. There are many ways for parishioners or anyone to support the work of the Parish.
Welcome to this new website for the parish of Blessed John Duns Scotus in the Gorbals Glasgow. Home to the Franciscan friars.
Eventually this website will have much useful, helpful information on the parish activities and developments.
We are gathering together information and images  and things are beginning to take shape. It will be updated where necessary as frequently as possible.
Thank you for your patience.
Please bookmark us and come back soon.
SYNODALITY: This is a word which we will be hearing a lot in the future.
It is about the Church consulting all the People of God, and that means you! It will be a period of consultation and discernment in local churches.
Are we trying to journey together in our Christian life?  What does it mean to journey together in faith?  How can we respond to the challenge to journey together ?  Are you aware of some happening in the local Church(Diocese) which makes you aware of being part of this local Church?  Or do you feel separated from it?
It is an invitation for you and each of us to have our say about what we think of the church.
It is a process of listening. There is no set agenda or list of questions, it is for each of us to consider what direction the Holy Spirit is leading us.
Listening to one another " is a slow and perhaps tiring exercise" but it must be done, including listening to "the questions, concerns and hopes of every church, people and nation," and to the "challenges and changes" that world presents.
If you have questions, concerns, suggestions about what we need to do to be a vibrant church for the future you are invited to make your voice heard.
In an attempt to understand and find answers together as a parish then there will be a series of meetings and events where such discussions can be had. It is all part of an important dialogue in order for us to understand where we are as a Parish in terms of our journey of faith.
Below is a pdf of the most recent meeting outcomes which can also be read in the adjacent panel.
Previous related minutes etc are available here.
Synodality Update
Synodality Survey Report 13th March 2022
Please pray for vocations to the Franciscan Order